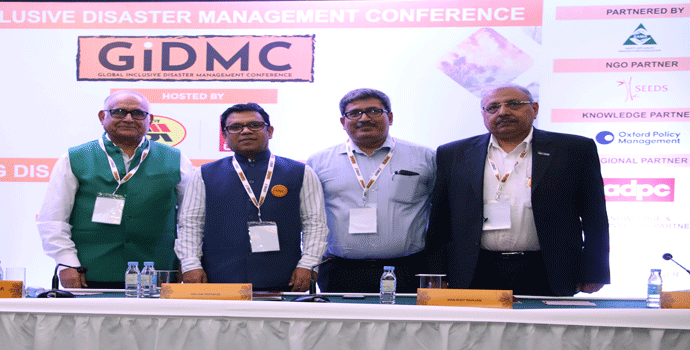 The Panel (left to Right ): Brig (Dr) BK Khanna, Mr. Aslam Pervaiz, Mr. Sanjeev Ranjan, and Mr. Pankaj Gupta
Asian Disaster Preparedness Center (ADPC) hosted a technical session on "Reducing Disaster Risks in Business Continuity" at the Global Inclusive Disaster Management Conference (GIDMC) held in New Delhi on 10-11 July 2018.
ICONEX Exhibitions Pvt. Ltd. organized the event with support from key public sector undertakings including Oil and Natural Gas Corporation (ONGC), Gas Authority of India Ltd. (GAIL), Cairn India, Tata Motors, Jawahar Lal Nehru University (JNU), Oxford Policy Management, and Charities Aid Foundation.

Mr. Aslam Pervaiz, Deputy Executive Director, ADPC, chaired the technical session and moderated the panel discussion on reducing disaster risks in business continuity. The panelists included Mr. Sudhir Kumar, Superintending Engineer, Bihar State Power Holding Co. Ltd; Mr. Sanjeev Ranjan, Head – Operations, CSR, Adani Foundation; Brig (Dr) BK. Khanna, CEO, FICCI-ARISE; Mr Pankaj Gupta, Member, FICCI Committee on MSME. The panelists shared their perspective on the interface between disasters and business.
Presenting the case of Bihar State Power Holding Co. Ltd, Mr. Sudhir Kumar highlighted the experience gained during the early recovery phase of power supply after the 2015 cyclone in Bihar. He presented the case study of Purnea district about a total blackout due to the cyclone, which included various strategies deployed for restoring about 85% of the power supply in 48 hours.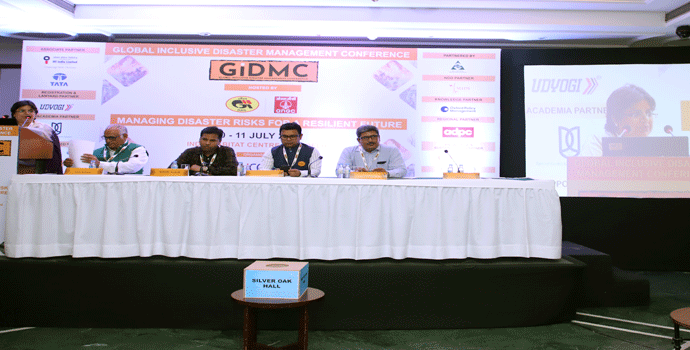 Ms. Mona Chhabra Anand from ADPC speaks to the participants.
Sharing the experience of relief activities undertaken by Adani Foundation during flood in Dhanera Taluka of Banaskantha District of Gujarat in 2017, Mr. Sanjeev Ranjan highlighted the potential of systematic relief support from businesses as part of a multi-stakeholder coordination mechanism led by the government.
Brig Khanna discussed the genesis Private Sector Alliance for Disaster Resilient Societies (ARISE) – an initiative of UNISDR – and discussed its current status and plans for mainstreaming DRR in the business community and its working.
Discussing the case of Uttarakhand flash floods in 2013, Mr. Pankaj Gupta described the impact of the disaster on the small scale entrepreneurs both in the service as well as the manufacturing sector. He discussed the practical difficulties and challenges confronting various stakeholders in states like Uttarakhand when considering a 'societal resilience perspective'.
Concluding the session, Mr. Aslam Pervaiz thanked the panelists for sharing insights on the subject and resonated the hope that the business community in India and other stakeholders will continue to find opportunities for a purposeful collaboration towards societal resilience.