The 13th annual meeting of the Regional Consultative Committee (RCC) on Disaster Management concluded on 19 October in Islamabad with an emphasis on creating strong linkages among various global frameworks for better implementation and greater impact on communities.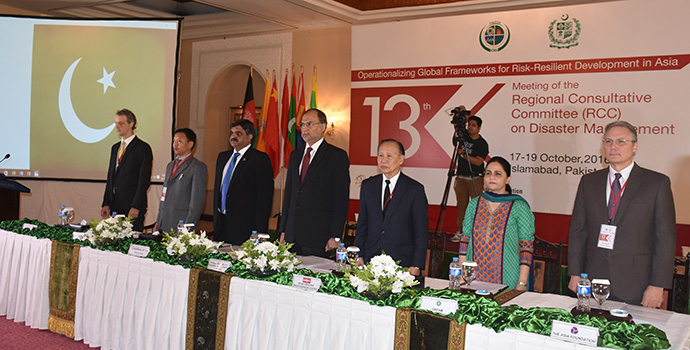 Federal Minister for Climate Change Mr. Zahid Hamid said in his concluding remarks that it was a great honor and privilege that Islamabad hosted the 13th RCC Meeting. He underscored the need for regional cooperation to fight climate change and to reduce the risk of future disasters.

Supporting Heart of Asia (HOA) for Enhancing Regional Cooperation on Disaster Risk Reduction, and Climate Change Adaptation and Sustainable Development Goals were the sub-theme of the concluding session. The participants discussed the roadmap and action plan of Heart of Asia and explored opportunities for creating synergies with other regional mechanisms. The roadmap aims to strengthen risk reduction capacities of HOA countries with a focus on promoting regional cooperation.

The 3-day meeting ended with the Islamabad Statement endorsed by RCC member countries. Delegates from Afghanistan, Bhutan, China, Indonesia, Maldives, Mongolia, Myanmar, Nepal, Philippines, Sri Lanka, Vietnam, Thailand, and Turkey, as well as development partners and international organizations, endorsed the Islamabad Statement. They regarded its recommendations as a valuable objective input to the Asian Ministerial Conference for Disaster Risk Reduction to be held in India in the first week of November 2016.

While concluding the meeting, Chairman NDMA, Maj General Asghar Nawaz said that to better manage risks and crises at the regional level, there is a need to create synergies in our joint actions and build partnerships to reduce the otherwise significant impact, particularly from natural disasters. He concluded that forums like RCC provide effective platforms for sharing views and deliberate upon issues confronting humanity in the region.