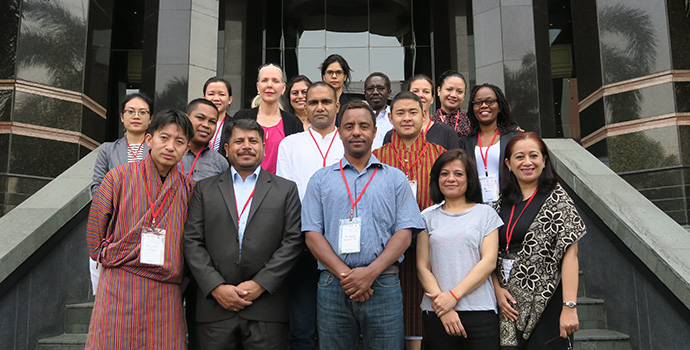 Participants and facilitators pause to take a group photo at the beginning of the two-week training course on Nutrition in Emergencies (NiE) in Bangkok, Thailand.

ADPC's 6th regional two-week training course on nutrition in emergencies kick-starts in Bangkok on Monday with professionals from Bangladesh, Bhutan, Ethiopia, Kenya, Madagascar, Pakistan and Sudan and Thailand who work in the humanitarian, government, development sector and donor agencies. Based on the NIE Harmonized Training Package (HTP) which has been developed by international experts on behalf of the Global Nutrition Cluster, the course will cover a variety of topics, ranging from practical skills to administrative tools.
Currently, around 40 million people worldwide are exposed to hunger. Conflicts and disasters make it harder for humanitarian workers to reach out to the most vulnerable populations and respond to their nutritional needs. Nutritionists, health professionals, and food security workers need to regularly upgrade their knowledge and enhance their skills to attend to the distinct needs of people suffering from multiple forms of malnutrition due to the unpredictable nature of emergencies. Likewise, food security and emergencies have direct links to sustainable development, and nutrition initiatives contribute to making the vulnerable populations resilient to disaster.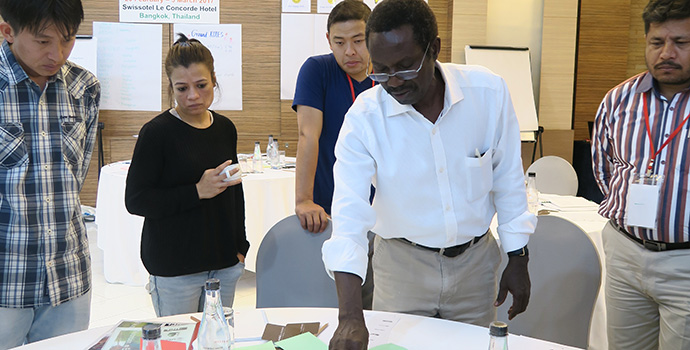 Participants work together during a group activity on the first day of the course on Nutrition in Emergencies (NiE) in Bangkok, Thailand.
"ADPC is right at the center of building the capacities of staff working in the humanitarian sector to refresh professionals' knowledge about how to design sustainable emergency nutrition programs," said Mr. Abdul Rehman, Program Management Specialist, Office of the Food for Peace (FFP), United States Agency for International Development (USAID), Pakistan.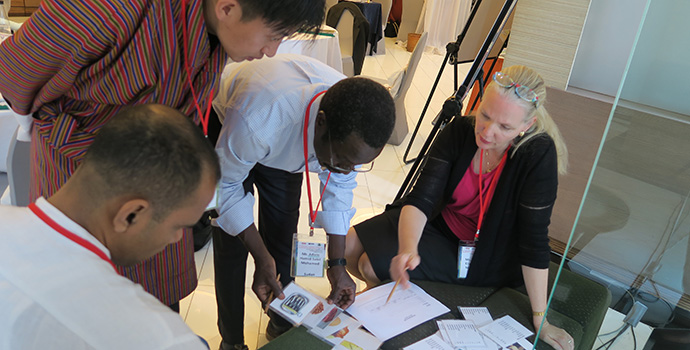 Participants discuss about the provision of food assistance in an emergency.
Fifteen emergency nutrition programming experts will impart their knowledge and field experience to participating nutritionists, health professionals, and food security workers to help them learn practical skills for supporting emergency nutrition responses more efficiently.
The University College London's Institute for Global Health, the American University of Beirut in Lebanon, the Asian Disaster Preparedness Center in Thailand, and the University of Makerere in Uganda set up the Nutrition in Emergencies (NIE) regional training project in collaboration with Emergency Nutrition Network (ENN).

While some sessions of the two-day course will cover subjects such as surveys and surveillance, therapeutic and supplementary feeding, infant and young child feeding in emergencies, as well as general food distribution, other sessions will discuss micronutrient assessment and intervention, monitoring and evaluation, humanitarian standards, coordination and emergency preparedness. New Sessions on nutrition in emergencies for older people and non-communicable diseases (NCD) have also been included in the training modules.
The course will also help participants to share their experience on coordination challenges during emergencies and to develop a professional development plan to guide their learning and practice after the training.