ADPC PROGRAMS & ACTIVITIES
3rd Meeting of the ADPC Regional Consultative Committee on Disaster Management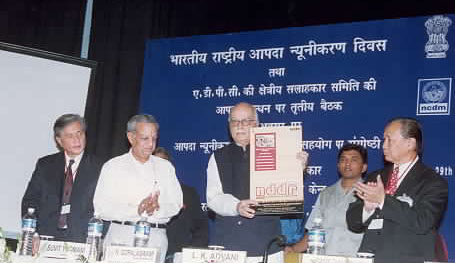 The 3rd Meeting of the ADPC Regional Consultative Committee on Disaster Management (RCC3) was held in New Delhi from 29-31 October 2002, in collaboration with the Government of India. The opening day of RCC3 was held concurrently with the National Seminar marking the Indian National Day for Disaster Reduction, which falls on 29 October 2002. The Indian Deputy Prime Minister, HE L K Advani, delivered the inaugural speech at the joint opening ceremony and called for countries and organizations to be proactive and synergistic while pursuing disaster risk reduction. HE Dr Professor Krasae Chanawongse, Chairman of ADPC Board of Trustees, called for increased partnerships at regional, national and community levels.
The seminar provided insights into disaster management systems implemented at different levels in India and recent initiatives at national and state levels. The seminar also highlighted regional cooperation initiatives undertaken by various organizations such as ADPC, ADRC, SAARC, UNDP and WMO.
Forty-four participants attended the meeting. They included heads of NDMOs of RCC member countries from Bangladesh, Cambodia, China, India, Jordan, Kazakhstan, Nepal, the Philippines, Sri Lanka, Thailand and Vietnam; representatives from the embassies of Bhutan, Indonesia, Kazakhstan, Malaysia, Thailand and Sri Lanka; observers from regional, international and national disaster management organizations (ADB, ADRC, ARC, AusAID, DFID, ECHO, EWC, MFESB, USAID/OFDA and WHO); and officers from the Government of India.
The second day of the meeting saw presentations by member countries on lessons learnt from recent disasters and programs in their countries, and ADPC's report on its follow-up actions from the last RCC recommendations. The afternoon session was a plenary discussion on "Capacity Building of National Disaster Management Systems – Prioritising Future Action Areas", with a specific focus on identifying training priority areas, target audiences and implementation mechanisms.
A special session on "Trends and Advances in Drought Preparedness and Mitigation" was organized on the third day of the meeting, during which speakers from India, Jordan and Sri Lanka, and international and regional organizations (ADPC, Drought Monitoring Center in Nairobi, ICRISAT, ISDR, IUCN and UNDP), gave presentations to share their experiences and exchange information on existing and planned initiatives in drought management. The session concluded with a discussion on regional cooperation in drought management.
Bangladesh extended its invitation to host the next RCC meeting in Dhaka under the theme of "Urban Disaster Reduction and Sustainable Development".