These publications may be of interest to our readers. The ADPC Library can offer assistance in locating them.
Bridging the Digital Divide, Gyandoot: The Model for Community Networks. Rajesh Rajora, 2002, ISBN 0-0704-4750-0, Tata McGraw-Hill Publishing Company Limited, New Delhi, 319 pages, US$ 21. Order from arun_agarwal@mcgraw-hill.com
This publication encompasses first-hand revelations that surfaced during the conception, planning and execution stages of the network. It dwells on the hurdles and opportunities that emerged while taking technology to resource-poor people. It emphasizes the critical role of people and viable technologies in the development of community networks. Lessons from the Gyandoot experience are also presented in the book. It will be useful for government officials, businesses, social scientists, policy-makers, IT specialists, research scholars, voluntary agencies and students.
Disaster Management in the Hills. Dr Satendra, 2002, ISBN 8-1806-9014-8, Concept Publishing Company, New Delhi, Rs 450. Order from publishing@conceptpub.com
This book is an outcome of an extensive survey in disaster-affected parts of Uttaranchal. It critically analyses the views of various stakeholders in the context of prevailing disaster management policies and planning, and suggests a more appropriate and innovative approach of linking disaster management with sustainable rural development.
La Niña and Its Impacts: Facts and Speculation. Michael H Glantz (ed), 2002, ISBN 9-2808-1071-5, United Nations University Press, USA, 271 pages. Order from unuona@igc.apc.org
This publication is based on a meeting of researchers, forecasters and users of La Niña forecasts, held at the US National Center for Atmospheric Research in Boulder, Colorado. It presents papers to introduce the reader to La Niña and offers a glimpse of the state of scientific knowledge about cold events and their impacts in developing and industrialized societies.
Making Waves: Integrating Coastal Conservation and Development. Katrina Brown, Emma L Tompkins and W Neil Adger, 2002, ISBN 1-8538-3912-4, Earthscan Publications Limited, UK, 164 pages, paperback, £17.95. Order from http://www.earthscan.co.uk/asp/bookdetails.asp?key=3797&field=new
Making Waves identifies the dilemmas of managing conservation and development in coastal areas. It is packed with important and timely information and tools for the management, conservation and assessment of social implications of coastal resource use. A variety of techniques and methods are presented that can be used to highlight trade-offs and promote sustainable decisions among diverse users. Their interdisciplinary analysis draws on the latest scientific knowledge and social science insights on property rights and governance, with cases from the developed and developing worlds. It will be useful for students of geography, development studies and environmental planning, and practitioners in natural resources management and coastal zone management.
Participation in Practice: Case Studies from the Gambia. David Brown, Mick Howes, Karim Hussein, Catherine Longley and Ken Swindell, 2002, ISBN 0-8500-3598-8, The Overseas Development Institute, 288 pages, paperback, £19.95 + postage. Order from www.odi.org.uk/publications/order.html
Participatory Rural Appraisal (PRA) has been hailed as a methodological revolution in people-centered research. Yet, surprisingly, its virtues have more often been asserted than demonstrated. This book presents an independent investigation of the use of the methods, and analyses the extent to which PRA's ambitious claims are borne out in field conditions. Aimed at development practitioners in international and bilateral agencies, and in NGOs, as well as at students of development studies, the study emphasizes the need for caution in the application of innovative research ideas to the complex realities of the developing world.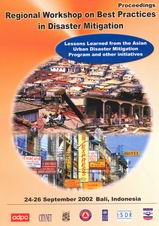 Proceedings of Regional Workshop on Best Practices in Disaster Mitigation, 24-26 September 2002, Bali, Indonesia: Lessons Learned from the Asian Urban Disaster Mitigation Program and Other Initiatives. Asian Disaster Preparedness Center, 2002. Requests for copies can be made to ambika@ait.ac.th
This proceedings contains papers presented at the Regional Workshop on Best Practices in Disaster Mitigation, under ADPCs' Asian Urban Disaster Mitigation Program. The papers document experiences in disaster mitigation under eight cross-cutting themes fundamental to disaster risk management: Policy, Legal and Institutional Arrangements; Hazard Mapping and Risk Assessment; Capacity Building; Mitigation Planning and Implementation; Promoting Safer Building Construction; Community-Based Approaches to Disaster Mitigation; Climate Applications and Preparedness; and Public Awareness and Social Marketing.
---
ISDR's Booklet on Disaster Reduction for Sustainable Mountain Development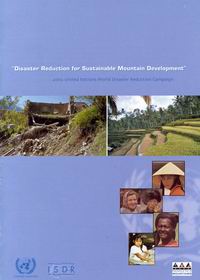 On the occasion of the 2002 World Disaster Reduction Campaign, the United Nations International Strategy for Disaster Reduction (ISDR) brought out a booklet on Disaster Reduction for Sustainable Mountain Development. The primary aim of the publication is to promote increased awareness on mountain issues to a worldwide audience. The lead article by the International Centre for Integrated Mountain Development discusses the theme in three parts: mountain hazards and disasters, natural disasters and sustainable development, and solutions and disaster reduction measures in the mountains. The booklet also provides concrete examples of disaster reduction in mountainous areas in Africa, the Andes, Austria, the Caucasus, Chamonix, Europe, the Himalayas, India, Japan and Latin America. Other information includes explanations of terms and concepts, disaster statistics, useful links to organizations, and information on some of the world's mountain systems. The booklet is available at www.unisdr.org