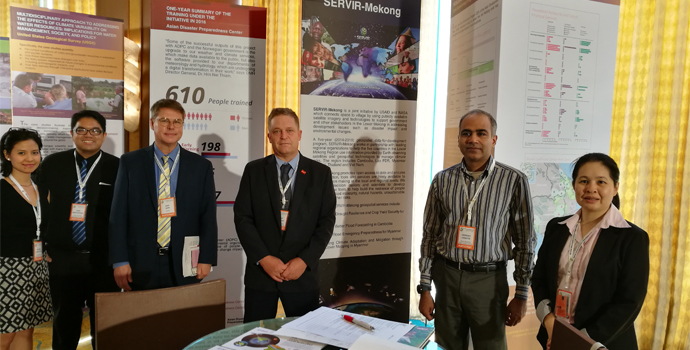 ADPC's Executive Director, Hans Guttman (4th from left) at the Climate Resilience Pavilion with representative from USAID Regional Development Mission for Asia.
SERVIR-Mekong's geospatial tools were featured as part of the knowledge portal display during the Fifth Greater Mekong Subregion (GMS) Environment Ministers' Meeting held in Chiang Mai, Thailand from January 30 to February 1. Asian Disaster Preparedness Center (ADPC) also showcased its work on mainstreaming disaster risk management into development in Mekong region at the climate resilience pavilion.
Hans Guttman, Executive Director of ADPC presented at the session "Mainstreaming Disaster and Climate Risk Management into Investment Decisions." This presentation was part of the Green Technology Seminar, which focused on policy dialogues. Environment leaders, government representatives, academics and other stakeholders from across the GMS attended the session/seminar. Hans noted the need to put resilience at the forefront of sustainable development programs and ADPC's continued commitments to such efforts.
"ADPC works with governments, research institutions and communities to promote disaster risk reduction and climate resilience to ensure fair and sustainable development," he said.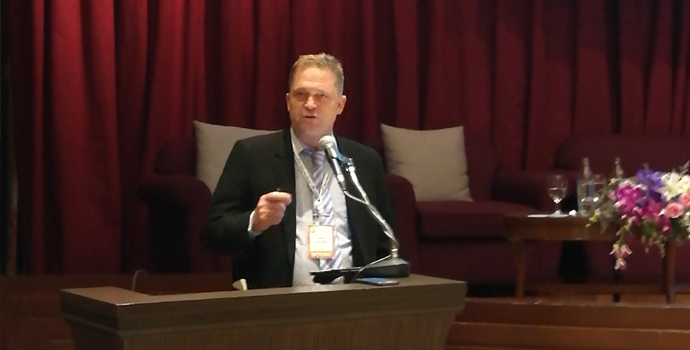 Mr. Hans Guttman, ADPC Executive Director delivers a presentation "Mainstreaming Disaster and Climate Risk Management into Investment Decisions" during the Green Technology Seminar.
Hans also provided a few examples of systematic and innovative initiatives being undertaken by ADPC which utilizes tools and mechanisms for climate resilience within Asia and the Pacific. This included a project where ADPC supported Lao PDR's Ministry of Planning and Investment to operationalize the mainstreaming of disaster risk reduction into public infrastructure investment decisions at policy, planning and implementation level, with assistance from the World Bank.
Another example was the SERVIR-Mekong program, utilizing geospatial technology and satellite data to address climate resilience within the Lower Mekong region, funded by the U.S. Agency for International Development (USAID) in partnership with the U.S. National Aeronautics and Space Administration (NASA).
This session echoed well with the keynote address delivered by Dr. Supachai Panitchpakdi, former Director-General of the World Trade Organization and Deputy Prime Minister of Thailand. Dr. Supachai stressed the importance of greater cooperation among countries in creating a green economy, which not only reduces carbon emissions but also takes into consideration the issue of inequality and poverty, thereby the need to create resilient communities.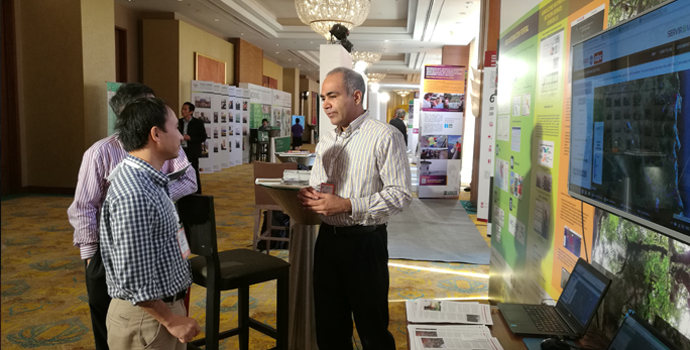 Dr. Farrukh Chishtie, Science and Data Lead for SERVIR-Mekong, demonstrates the flood monitoring tool to visitors.
During the development partner's session, ADPC expressed willingness to cooperate with the Asian Development Bank Environment Operation Center in areas of risk governance, climate resilience, urban resilience, gender equality and promote geospatial tools.
Environment ministers from six GMS countries (Thailand, Cambodia, Laos PDR, Myanmar, Viet Nam and China) endorsed the Core Environment Programme (CEP) Strategic Framework and Action Plan for 2018 to 2022 for member countries to work together on environmental issues and environmentally friendly development.
On the conclusion of the workshop, the ministers also issued a Joint Ministerial Statement which reaffirmed their shared commitment to build green, inclusive, and sustainable economies. The statement noted the need for investment in climate resilience and disaster risk management and urged the CEP to promote these areas.
The EMM-5 events were organized by the GMS Working Group on Environment, with support from Thailand's Ministry of Natural Resources and Environment and the Asian Development Bank's Environment Operations Center.