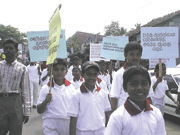 Last updated:
13 March, 2015

Strategy Asia 2020
Public Awareness Campaigns: A Partnership Approach
People living in hazard-prone areas need to realize and understand that they live in areas of risk. They need to know the specific dangers they are exposed to, the warnings that are issued and the appropriate actions to take to protect their lives and minimize damage and loss. They need information. Customizing public awareness approaches, tools and messages can push the message through heavy traffic of information competing for people's attention. The overal l goal is to motivate people to act.
ADPC has developed communication guidelines for urban disaster-risk management in Asia and a regional training course curriculum on disaster-risk communication targeted at government agencies, non-government organizations and media groups. The guidelines and course focus on strategies to "package" and "channel" carefully designed messages effectively to targeted populations so that appropriate protective actions will be taken.
Strategy: To promote awareness on disaster-risk management, a partnership approach is required with training institutes, the media, organizations of targeted sectors and the population at risk. ADPC aims to develop a cadre of competent professionals to adapt and deliver the disaster-risk communication course nationally and locally. By the end of the course, participants will be expected to have an action plan and draft proposal for a public awareness project. An alumni network will be set up to regularly share knowledge, experiences and lessons learned on the Web site, through e-mail discussion lists and in face-to-face meetings.
Target: Strategy Asia 2020 will develop and implement tailored risk communication strategies in 10 disaster-prone countries in Asia.
---
Return to Strategy Asia 2020