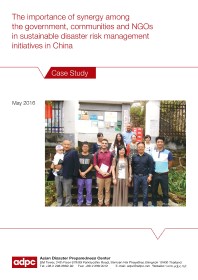 The importance of synergy among the government, communities and NGOs in sustainable disaster risk management in China
Published on: 05/01/2016
Language: English, Chinese
Author(s): Asian Disaster Preparedness Center (ADPC)
Department: General
Type: Impact Stories and Case Studies
File size: 5.30 MBFile size: 3.88 MBFile size: 2.06 MB
Publication Overview/Description
the Asia Foundation with financial support from United States Agency for International Development/Office of U.S. Foreign Disaster Assistance (USAID/OFDA) launched a Community Based Disaster Risk Management (CBDRM) project with support from China's Ministry of Civil Affairs to train community members and local government officials in China.
The project targeted three communities in three different provinces including Juxing Community, Dujiangyan City, Sichuan Province; Yumeishi Community, Xiaoshan District, Hangzhou City, Zhejiang Province; and Maoping Community, Maoping Township, Jinggangshan City, Jiangxi Province.
The Asia Foundation invited the Asian Disaster Preparedness Center (ADPC) to provide technical support in developing training courses to deliver in each province.