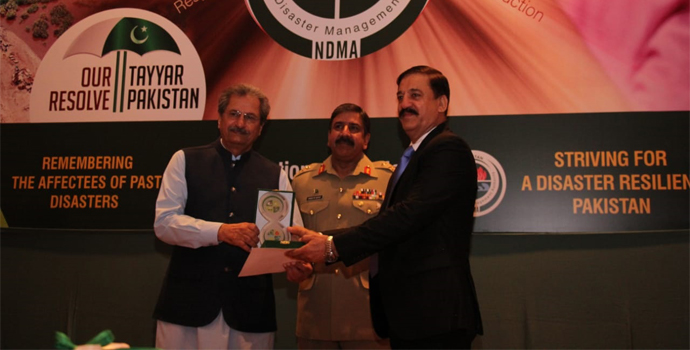 Mr. Sajid Naeem, Country Manager, receives the Certificate of Excellence, on behalf of Mr. Hans Guttman, ADPC's Executive Director

Asian Disaster Preparedness Center (ADPC) was presented with a Certificate of Excellence on Pakistan National Resilience Day on 8 October, 2018, to offer recognition of ADPC's services and contributions rendered in the field of disaster management within Pakistan.
Mr. Sajid Naeem, Country Manager, received the certificate and souvenirs on behalf of Mr. Hans Guttman, ADPC's Executive Director. Mr. Shafaqat Mahmood, Federal Minister for Education and Professional Training, Government of Pakistan, graced the occasion as chief guest.
Previously, the day was marked as National Disaster Awareness Day in commemoration of the Kashmir Earthquake of 8 October 2005 that killed over 87,000 people, affected over five million and left over three million homeless. The National Resilience Day will be marked annually to highlight Pakistan's continual efforts to implement resilient measures and increase preparedness to minimize losses when faced with calamities.
Further emphasis will be placed on raising awareness of the disaster preparedness and resilience building efforts being implemented across the nation. As one of the nine founding member countries, Pakistan plays an integral role in taking forward ADPC's agenda of disaster risk reduction across the region.
ADPC will continue to collaborate with and support Pakistan's efforts to build its resilience against disasters.