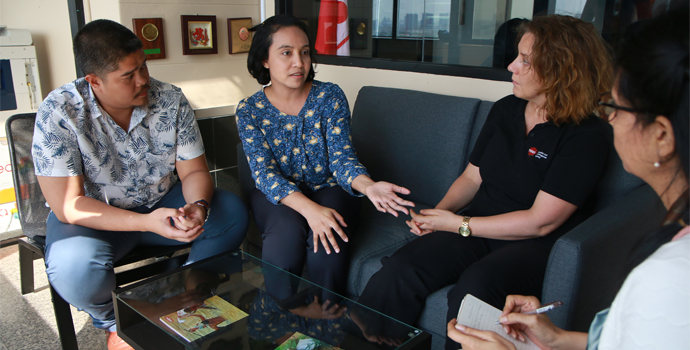 Pannawadee Somboon, Senior Project Officer of Risk Governance, ADPC, discusses BRDR workstreams in correlation with global frameworks
The signs of climate change are clear; the evidence is compelling and efforts are underway to combat its fury, which can cause losses beyond repair. Rapidly fluctuating trends of climate change are outpacing governments' ability to make adjustments in their adaptation plans. For example, a study by Asian Development Bank suggests that the economic losses from the impact of climate change in Southeast Asia are likely to be 60 percent higher than previously projected and this scenario can likely reduce the gross domestic product (GDP) of the region up to 11 percent by 2100.
Despite making up to 43 percent of the agricultural labor in developing countries, women are the last to receive updates on the impact of vagaries of the weather. Accurate and timely information regarding natural hazards can help women mitigate the impact of climate change on small-scale farming or domestic livestock──the lifeline of the majority of the rural population. Layers of gender inequality deeply ingrained in culture deny society the benefits of women's participation in building disaster resilience of families, communities, countries and the world.
Provided that gender inequality is understood and reduced in Asia and the Pacific, women can greatly contribute to the society's wellbeing before and during a disaster. "The trouble with inequality and disasters is that it's cyclical. Where gender relations are unequal, women are worse hit by disaster and take longer to recover. That in turn exacerbates the inequality," says Hilde Jakobsen, Senior Gender Advisor at Asian Disaster Preparedness Center (ADPC). "To break this cycle, greater attention and resources should be allocated to the aftermath of disasters that disproportionately affect women."
The Government of Sweden has engaged with many stakeholders to promote an inclusive and rights-based approach to making Asia and the Pacific safer from disasters. ADPC also joined hands and is now working alongside partners to promote the idea of benefiting from women's potential in reducing the impact of disasters and climate change.
Recently, ADPC launched a five-year multi-stakeholders program──Building Resilience through Inclusive and Climate-adaptive Disaster Risk Reduction in Asia-Pacific (BRDR). With an aim of protecting development gains and enhancing regional cooperation for inclusive and gender-equal risk reduction approaches, the BRDR program is supported by the Swedish International Development Cooperation Agency (Sida) and implemented jointly by ADPC, the Swedish Civil Contingencies Agency (MSB), the Stockholm Environment Institute (SEI), and the Raoul Wallenberg Institute (RWI). Nepal, Papua New Guinea and the Philippines are the BRDR's pilot countries.
Global development frameworks identify multi-stakeholder engagement as one of the pillars of resilience-building and risk governance. Inclusiveness, integration and mainstreaming are equally echoed in six frameworks adopted in 2015 and 2016: (1) the 2030 Agenda for Sustainable Development; (2) the Sendai Framework for Disaster Risk Reduction 2015–2030; (3) the Paris Agreement under the United Nations Framework Convention on Climate Change; (4) the Agenda for Humanity; (5) the New Urban Agenda; and (6) the Addis Ababa Action Agenda of the Third International Conference on Financing for Development.
The design of the BRDR program complements the global frameworks for resilience building. "Workstreams of the BRDR are purposely put together to support the implementation of the Sendai Framework for Disaster Risk Reduction," says Pannawadee Somboon, Senior Project Officer at the Risk Governance Department of ADPC. She further describes one of the three BRDR workstreams that is focused on strengthening capacity for regional cooperation for climate resilience and disaster risk reduction in Asia and the Pacific. "We are working towards supporting the achievement of Target F of the Sendai Framework through an enhanced mechanism of the Regional Consultative Committee on Disaster Management (RCC), as well as through an Asia-Pacific wide e-learning system in a form of MOOC [Massive Open Online Course]," Somboon explains.
The Target-F of the Sendai Framework seeks to 'enhance international cooperation for developing countries through adequate and sustainable support to complement their national actions for implementation of the present framework by 2030.' In addition, the BRDR program's interventions are focused on other priorities of the Sendai Framework including priority 1 that discusses the importance of understanding risks.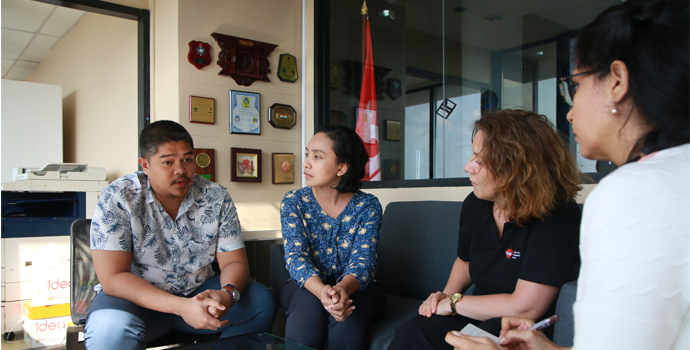 Israel P. Jegillos, Senior Programme Coordinator, Risk Governance, ADPC, discusses components of the BRDR program that supports the Sendai Priorities
Sharing more details, Israel P. Jegillos, Senior Programme Coordinator at the Risk Governance Department of ADPC, states that supporting risk-informed development through BRDR's component on mainstreaming of disaster risk reduction and climate resilience into development process, covers three of the four Sendai Priorities. "These Sendai priorities include understanding disaster risk, strengthening disaster risk governance to manage disaster risk, and investing in disaster risk reduction for resilience," he elaborates.
Hilde Jakobsen expects that BRDR program will amount to greater attention towards achieving gender equality and empowering all women──one of the 17 Sustainable Development Goals. "We will look for ways to strengthen women's agency in local disaster and climate change decision-making, as well as existing women's initiatives on reducing gendered violence and exploitation that often increases after disasters," she underlines. "Making sure disaster response is gender-equal is also important, and together with National Disaster Management Organizations, we will explore what can be done in disaster preparedness to improve on this."
The end of the inception phase of the program is just the beginning of a long journey in addressing inveterate challenges of gender inequality and the popular culture of putting the topic of disaster risk reduction at the bottom of the priority list.
The inception phase examined the relationship between country-specific and regional gender policies and their impact on the resilience of women to disasters. Jakobsen says that the lack of country-specific gender analyses of the actual problems and needs women and girls have in relation to climate change and disasters is a significant challenge in determining the exact remedy.
The BRDR scoping research report uncovered the fact that there is no single document or approach that practitioners could use to apply a gender-equal and rights-based approach to disaster risk reduction and climate resilience. "While language is available in the global frameworks, these do not expressly call for the adoption of rights-based approach to disaster risk reduction and climate resilience," denotes the scoping report.
The research also concluded that a relatively weak language on gender in some regional disaster risk policies may lead to poor implementation of policies. This is also evident in South Asia and Southeast Asia, where several policies on disaster and climate change lack gender-equality references, or gender equality is only briefly mentioned.

"However, in the Pacific, regional frameworks are generally stronger in terms of gender-equality language, and thus the Pacific may provide an example of best practices for Southeast Asia and South Asia in terms of including gender-equality language in disaster risk reduction and climate resilience policies," the report notes.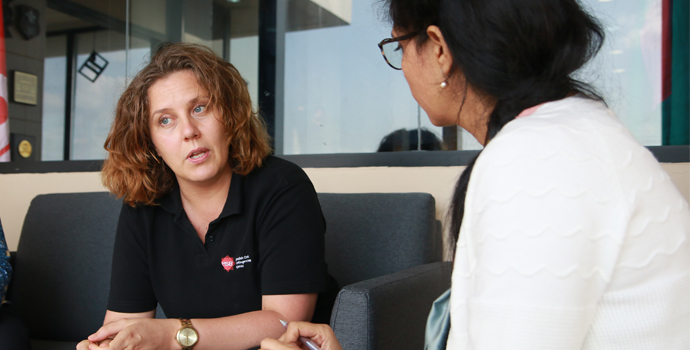 Hilde Jakobsen, ADPC's Senior Gender Advisor, discusses expectations that the BRDR program will amount to greater attention towards achieving gender equality
Jakobsen suggests that efforts should be more focused on approach rather than implementing projects. "The approach to defining a working framework should describe the underlying problem to be addressed as the vicious cycle of disasters and gender inequality… where it is recognized that gender inequality exacerbates disaster impact, and increased gender inequality is also a part of negative disaster impact on the already unequal," she proposes.
The BRDR program states a clear approach and a stronger gender language is needed at all levels including a focus on gender and changing the roles of women, rather than merely mandating participation and inclusion or talking about women as victims. While gender balance and women's participation need to be enhanced on boards and bodies, getting women at the decision-making tables is merely the first step towards greater gender-equality in the region.
By Vidya Rana
Communications Manager, ADPC