Heavy rains and flash flooding caused the collapse of the Xe Namoy Xe Pian Dam in Sanamxay district, Attapeu province of Lao PDR on the night of July 23rd, affecting over 6,000 people with over 100 missing (as of 26 July 2018), according to official government sources. Asian Disaster Preparedness Center (ADPC) in coordination with the Japan Aerospace Exploration Agency (JAXA), the European Space Agency, the U.S. National Aeronautics and Space Administration (NASA) Marshall Space Flight Center, and Sentinel Asia provided maps of affected areas through remote sensing technology to the Ministry of Labour and Social Welfare Lao PDR.

The maps were created through the analysis of data using satellite imagery that shows inundated areas caused by the collapsed dam and flooded villages downstream as of 26 July 2018 and is being constantly updated as the situation unfolds. The information provided by ADPC and coordinating agencies may be utilized to inform the government of Lao PDR in allocating relief supplies to the most affected areas as well as assist in the emergency evacuation and recovery efforts. The same information is being sent to the Mekong River Commission Secretariat for their utilization.

ADPC continues to monitor the situation and ready to provide further assistance in the emergency response and planning as requested by the Government of Lao PDR.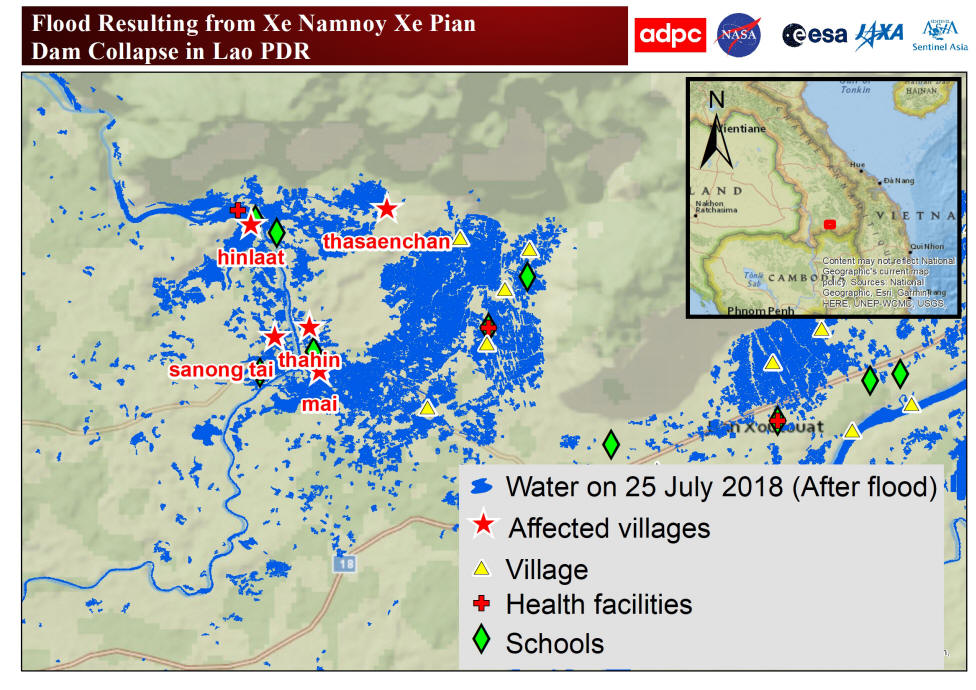 Caption: The map shows the water inundation areas caused by the collapsed dam and flooded villages.
(Sources of data and analysis: JAXA/Sentinel Asia, European Space Agency, NASA, and ADPC)