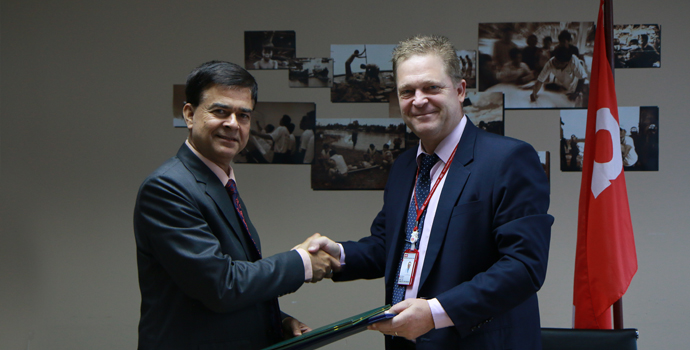 Mr. Kedar Neupane, Joint Secretary to the Ministry of Home Affairs, Nepal, and Mr. Hans Guttman, ADPC's Executive Director, officiate the MoU signing
Asian Disaster Preparedness Center (ADPC) met with delegates from Nepal's Ministry of Home Affairs (MoHA), Government of Nepal, on 9 July to sign a Memorandum of Understanding (MoU) aimed at strengthening the current and future efforts in enhancing Nepal's resilience against disasters.
Mr. Hans Guttman, ADPC's Executive Director, shares with the Nepali delegation the focus areas of ADPC and cross-cutting themes which run through each programme. He said ADPC is committed to implementing voluntary commitments made at the World Humanitarian Summit by world leaders and other stakeholders in 2016, focusing on the localization of humanitarian response.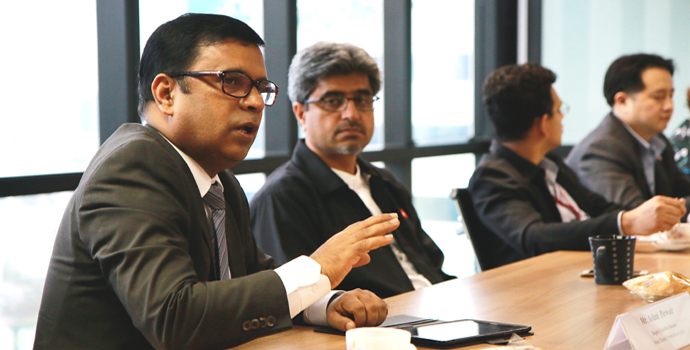 Mr. Aslam Perwaiz, ADPC's Deputy Executive Director, discusses areas of cooperation between ADPC and government of Nepal
ADPC has been supporting the government of Nepal in several areas including agriculture, health, and climate data digitization and downscaling. The MoU will enable ADPC and the government of Nepal to strengthen ongoing efforts in addressing the needs and challenges in the field of disaster risk management (DRM) in Nepal.
The Asian Preparedness Partnership (APP) programme, with the support of Bill & Melinda Gates Foundation, demonstrates ADPC's efforts in building partnerships between local humanitarian organizations, government and private sector for better disaster response and preparedness. The partnership has trained over 200 Nepali professionals from both government and non-government sectors on preparedness for emergency response.
The Regional Consultative Committee (RCC) meeting, scheduled to be held in November in partnership with the Nepali government, demonstrates another milestone between ADPC and the government of Nepal, alongside an opportunity for both parties to embark on new relationships with 25 other countries across Asia.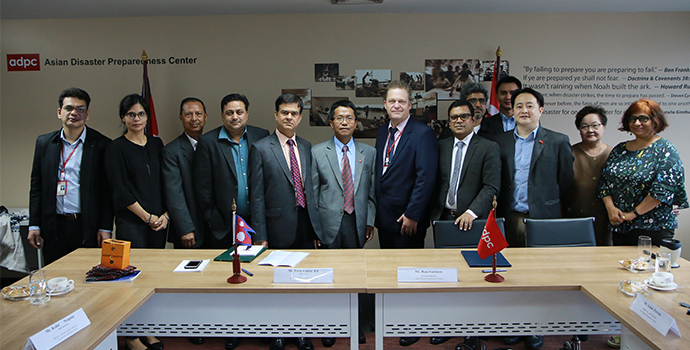 Delegates from the Ministry of Home Affairs, Nepal, pose for a group picture with representatives from ADPC
"I hope the new 'Building Resilient through inclusive and climate-adaptive Disaster Risk Reduction in Asia-Pacific' (BRDR) project will support us to strengthen our disaster information management system (DIMS) from central to local levels and also will raise technical capacity of our officials involved in (DIMS) in Nepal," states Mr. Prem Kumar Rai, Secretary of MoHA, Government of Nepal.
Mr. Aslam Perwaiz, Deputy Executive Director of ADPC, highlighted the areas of cooperation in the past. He said ADPC has been providing technical support to the government of Nepal since 1995 in various sectors including in the area of mainstreaming disaster risk reduction into development.