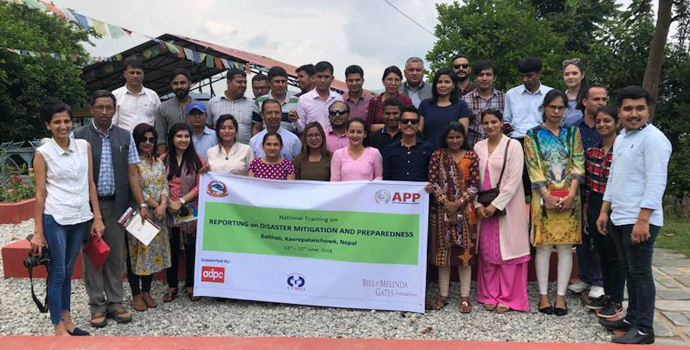 Participants pose for a group picture with representatives from ADPC
A 3-day training on Reporting on Disaster Mitigation and Prevention (RedMap) for journalists brought together 29 journalists from across 8 provinces in Nepal to build the journalists' capacity on disaster risk management (DRM) reporting.
The workshop was hosted by Nepal's Preparedness Partnership, a joint collaboration of the Ministry of Home Affairs, Civil Society Organizations and the Private sector, as part of the Asian Preparedness Partnership (APP) Roadmap, implemented by ADPC with support from the Bill & Melinda Gates Foundation.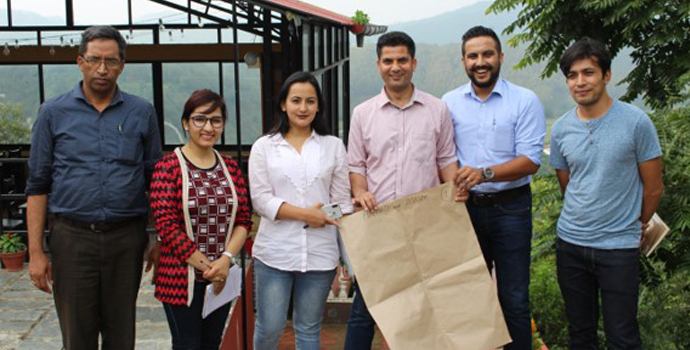 A group of participants showcase their understanding on "Hazard and Disaster"
Media plays a crucial role in building a bridge between technical people, academics, policy makers, scientists and the general public in transmitting information in a language that is commonly understood by a wider audience. However, media often focuses on reporting on the aftermath of disasters. The workshop was aimed towards shaping journalists' understanding of the importance of pre-disaster reporting and how they can adopt the concept into their beats in the context of Nepal.
Mr. Kedar, Neupane, Joint Secretary of the Ministry of Home Affairs (MoHA) was in attendance to introduce the journalists to the role of the government in dissemination DRM initiatives. Following which the journalists were introduced to key terms and disaster language. They were encouraged to build their own understanding of key terms in the disaster risk management cycles. The interactive workshop enabled journalists' to assist one another in building their disaster vocabulary which was later applied to the practical aspect of the training.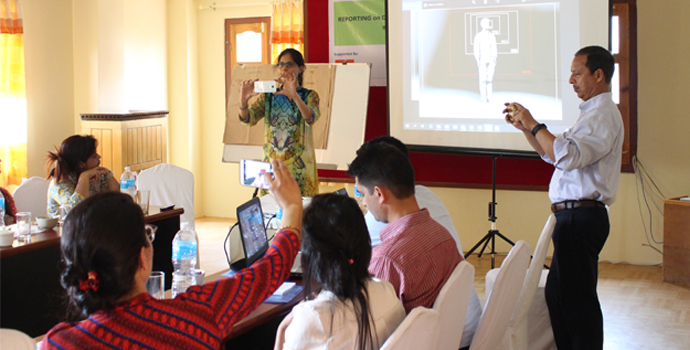 Participants are introduced to the concept of One-Person Journalist and using minimal equipment in disaster reporting
Journalists gathered in Balthali, a village heavily affected by the 2015 earthquake in Nepal, to explore theoretical and practical dimensions of disaster reporting. Through use of minimal equipment, introduced by the One-Person Journalist (OPJ) concept, the journalists collected information to create news packages on how the locals have transformed their livelihood in preparation for the potential threat of disasters in the future, after facing the impacts of the earthquake.
Despite a majority of the journalists not having any previous experience in disaster reporting, they worked tirelessly through the evening to finalize their news packages. The workshop developed the journalists' understanding of the critical role that media plays in raising awareness on mitigating the impacts of disasters.
Proceeding the training, the journalists have demonstrated eagerness to further explore the field of disaster reporting and Asian Disaster Preparedness Center (ADPC) will continue to assist in developing this initiative across Asia and the Pacific.