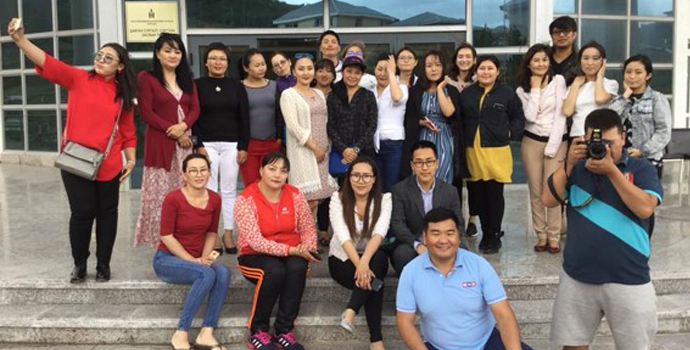 Mongolian journalists pose for a group picture

Mongolian journalists gained technical knowledge and learned practical skills about integrating disaster preparedness and mitigation into their beats during the 4th advanced media training organized by Mongolia's National Emergency Management Agency (NEMA), Asian Disaster Preparedness Center (ADPC), UNISDR and the Thai Public Broadcasting Service (Thai PBS) ahead of the Asian Ministerial Conference on Disaster Risk Reduction (AMCDRR) 2018 which starts here on 3 July.
The first media training was held in April 2017 to prepare the Mongolian journalists on reporting about AMCDRR in general and on disaster preparedness and mitigation in particular. An advanced training took place in April 2018 just before the ISDRR Asia Partnership Meeting (IAP).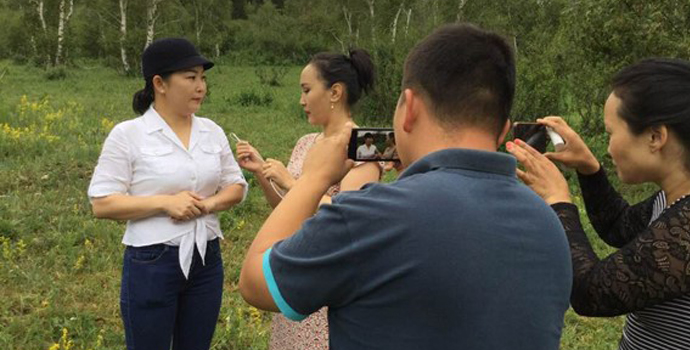 Mongolian journalists gather information using minimal equipment and mobile applications to compile their news packages
The concept of a One-Person Journalist for reporting on disaster preparedness and safety was introduced to the Mongolian journalists with help from the Thai PBS. A total of 80 Mongolian journalists from print, television, radio, and online media have received the training thus far. The trained journalists have been able to develop news packages on disaster preparedness and mitigation of different hazards such as earthquake, flood, environmental pollution, urban fire, forest fire, road safety, and emergency response.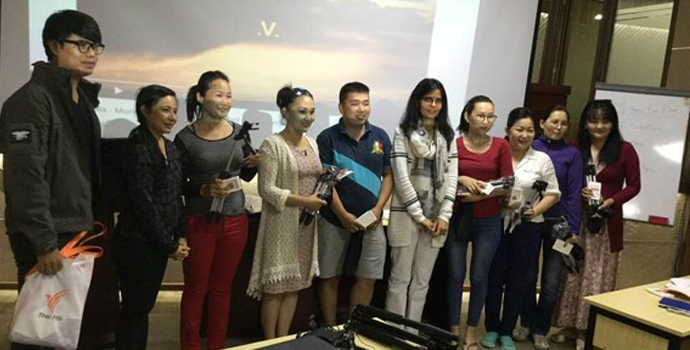 The winning journalist group pose for a picture with representatives from Thai PBS and ADPC

As part of this media capacity-building initiative, three Mongolia journalists were also trained as trainers through a fellowship at the Thai PBS and ADPC in Thailand. During the latest workshop, they shared their experience and newly acquired skills with their colleagues. As advocates of pre-disaster media reporting, the three trained journalists have been raising awareness of the role of media in saving lives within their communities.
The capacity building initiative for the Mongolian media has effectively changed the reporting patterns of many journalists who have participated in the capacity-building events. They are convinced that in addition to providing correct information and the right message at the right time, media should also create an environment for solidarity and trust. This will help in augmenting the collective responsibility of all segments of society to tackle the challenges posed by any disaster.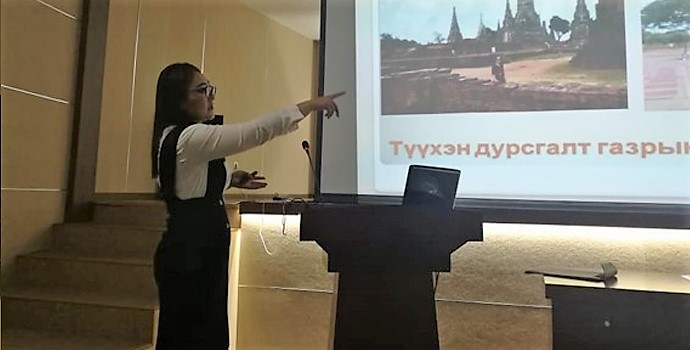 Ms. Surnee Uyanga, reporter, Zuuniimedee Newspaper, shares her fellowship, with Thai PBS and ADPC, experience
While sharing her experience with the workshop participants, Ms. Surnee Uyanga, a reporter at Zuuniimedee Newspaper, said the media can play a leadership role in changing the mindset of society for making it more proactive rather than reactive.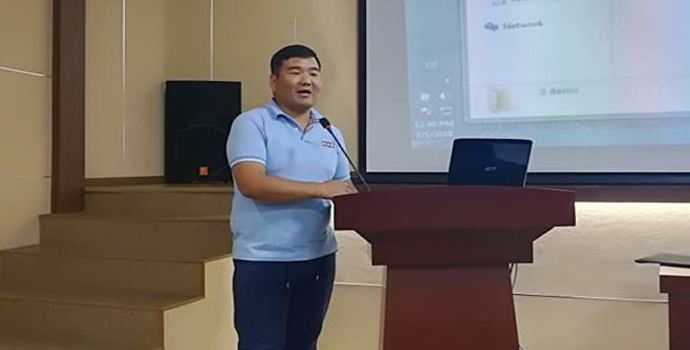 Mr. Tseveendorj Ankbayer, reporter, Mongolia National Broadcaster (MNB) TV, discusses the role of media in disaster reporting
Mr. Tseveendorj Ankhbayer, reporter, Mongolia National Broadcaster (MNB) TV, said that media has the responsibility to make the message about the value of disaster preparedness and mitigation more valuable and credible for the general public.
To support their claims, RedMap One-Person-Journalist has modified their reporting patterns by covering more natural hazard-related issues and integrating disaster risk reduction topics into their beats.
Reporting on the aftermath of a disaster is big news and often is the sole focus on the news media. But these workshops have successfully prepared journalists to tell equally newsworthy stories about how communities are building their resilience against disasters here in Mongolia. It has also helped reporters write scripts, gather the footage and do the voiceover, and edit hazard-specific stories using minimal equipment and mobile applications.
A Facebook group 'Mongolia Disaster Journalist Network' has been created where journalists post their disaster-related stories and share information.