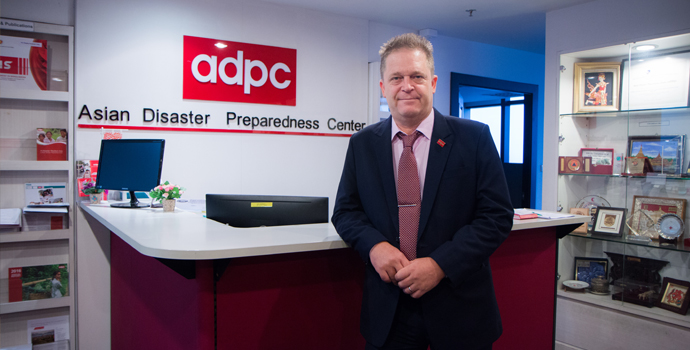 Mr. Hans Guttman, ADPC's Executive Director, at ADPC's headquarter office in Bangkok, Thailand
ADPC's Executive Director, Mr. Hans Guttman, discussed the intergovernmental status and efforts of ADPC in enhancing disaster preparedness of communities across Asia and the Pacific, in an interview with the National Assembly Radio and Television Broadcasting Station on May 14.
With the intergovernmental organization status, Hans discussed ADPC's aim to collaborate with a wider network of partners to continue developing technological capabilities and knowledge exchange across Asia and the Pacific. "ADPC strives to build close relationships with governments to enhance the partner's involvement in reducing the impact of disasters within each country," he explained.
In response to a question, Hans explained that climate change continues to increase the impact of disasters while urban areas are becoming more vulnerable, resulting in an overall increase in the cost of disasters annually. However, the methods available to enhance regional preparedness are more effective today.
Quoting an example from Bangladesh, he said that Bangladesh used to be much vulnerable to disasters 30 years ago due to lack of preparedness initiatives. "Since adopting an early warning system, 300,000 people were evacuated prior to a storm striking in Bangladesh, reducing the loss of human lives substantially. ADPC's efforts cover implementation of early warning systems and training to enhance disaster resilience across the region," he said.
Hans reminded listeners that they can't be too prepared. "The importance of preparing and training will reduce the impact of unexpected disasters," he insisted. He continued to explain the need for individuals to demonstrate initiative to strive towards understanding the measures available to protect an individual's community while understanding the threats imposed on each community.
Hans emphasized that ADPC looks forward to working alongside a wider network of organizations, with the guidance of a board of trustees, working collaboratively to continue assisting in implementation of preparedness measures across Asia and the Pacific.
To hear the full interview in Thai, minutes 26:10 – 41:33, click here.