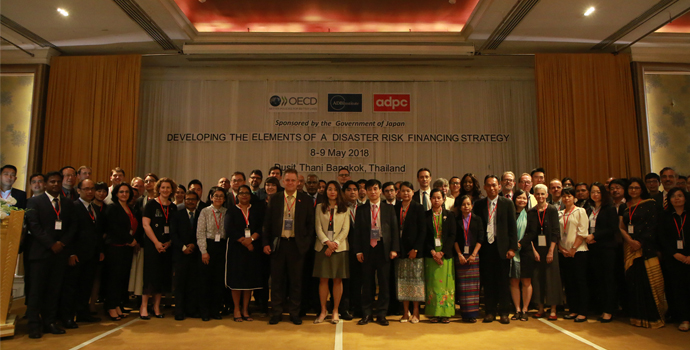 Participants pose for a group picture
Experts debated the challenges and opportunities to develop strategies for managing the financial impacts of disaster risks in hazard-prone countries at the two-day workshop on "Developing the elements of a disaster risk financing strategy". The workshop, held in Bangkok on 8-9 May, brought together government officials from disaster risk management agencies; ministries of finance; international organizations; academia; insurance supervisors and the private sector from 25 countries.
The event was co-organized by Asian Disaster Preparedness Center (ADPC), the Organization for Economic Co-operation and Development (OECD) and the Asian Development Bank Institute (ADBI) - with the support from the Government of Japan.
Forty-one experts from the public, private and development sectors shared their experience and expertise on the significance of data from past disasters and exposure quantification in order to develop a disaster risk financing strategy.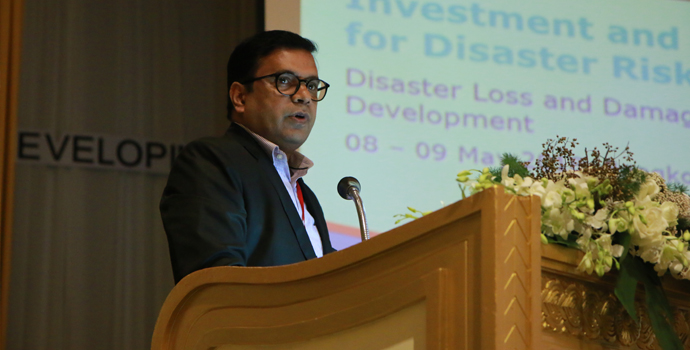 Mr. Aslam Pervaiz, ADPC's Deputy Executive Director, moderates a session

In a session moderated by Mr. Aslam Pervaiz, ADPC's Executive Director, experts shed light on the importance of disaster damage and loss data collection and exposure quantification for informed decision-making. Issues in generating, analyzing, storing, sharing and application of disaster-related data were identified as some of the important reasons faced by emerging economies to developing risk financing policies at national and sub-national levels. Experts believe that an efficient multi-hazard risk assessment coupled with the application of exposure data is a critical input for informed decision making on land use and development planning. Speakers also emphasized on consolidating and validating existing data to gain protection against hazards.

The absence of a common and systematic methodology to gather data regarding the impact of past disasters, according to experts, is a key hindrance in the development of an effective risk financing framework. Participants discussed common practices and solutions that could help overcome some of the challenges to better understanding risk and to providing the data and analytics necessary to make informed risk management and risk transfer decisions.
Japan, India, Pakistan, Viet Nam, Philippines, Lao PDR and other Asian countries shared the status of disaster risk financing and challenges they face in order to have a robust risk financing framework in their respective countries. Viet Nam shared that it manages expenditures of natural hazards by educating owners on understanding the risks involved in owning public assets while providing necessary insurance.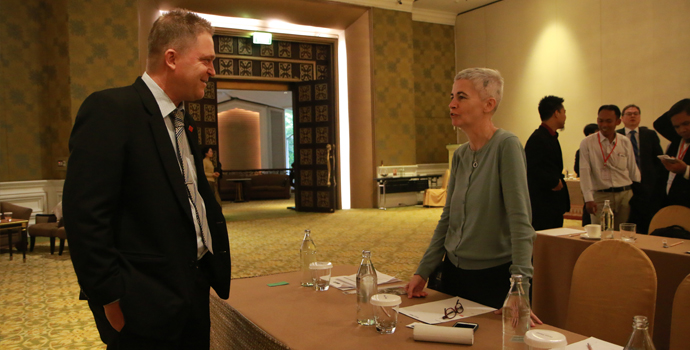 Mr. Hans Guttman, ADPC's Executive Director, greets Dr. Charlotte Benson, Principal Disaster Risk Management Specialist of ADB

In his closing remarks, Mr. Hans Guttman, ADPC's Executive Director, discussed the importance of integrating the topic of risk financing across future regional workshops. "Public financing of risk reduction is key to achieve community and country resilience. On behalf of ADPC, I commit to continuing this dialogue to make sure that risk financing is on agenda in our future consultations, especially in future meetings of the Regional Consultative Committee on Disaster Management (RCC)," he stated, further ensuring that ADPC is ready to provide technical assistance to countries in Asia and the Pacific in carrying out risk assessment."
Ms. Mamiko Yokoi-Arai, Principal Administrator of OECD and Mr. Chul Ju Kim, Deputy Dean of ADBI concluded the workshop with their closing remarks.