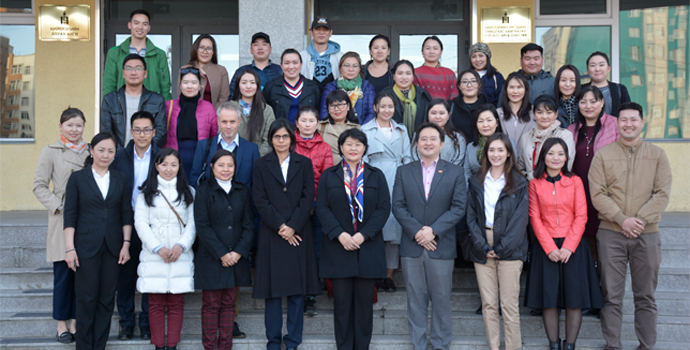 Participants pose for a group photo.
At the Civilian Training Center in Mongolia's capital, Ulaanbaatar, 40 Mongolian journalists listened intently to Thai Public Broadcast Services (ThaiPBS) disaster and weather reporting news editor, Ms. Darin Klong Ugkara, as she narrated her journey to becoming a journalist who reports to save lives.
She encouraged journalists to think beyond their careers and report for the greater goal of saving lives. She urged media colleagues to play their critical role in making communities resilient to climate change. "Timely and accurate information about hazards can help people adapt to the perilous conditions or take appropriate measure before a disaster strikes," she informed.
Ms. Klong Ugkara was addressing televisions, newspapers, online and radio journalists at a two-day media training workshop on disaster risk reduction held in Ulaanbaatar, a day before the ISDR-Asia Partnership (IAP) Forum on 24-25 April.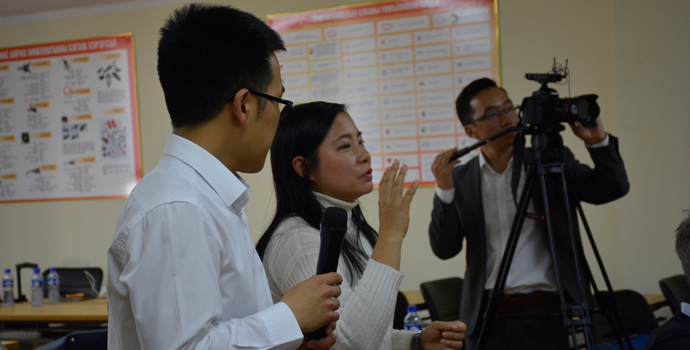 Ms. Darin Klong Ugkara, disaster and weather reporting news editor at ThaiPBS, discusses the linkages between the concept of One Man Journalist and disaster reporting.
The IAP meeting oversaw 125 delegates in attendance, represented by over 20 governments, intergovernmental organizations, UN entities, businesses and stakeholder groups. The delegates reviewed progress on the Asia Regional Plan for implementation of the Sendai Framework and discussed the agenda for the Asian Ministerial Conference on Disaster Risk Reduction (AMCDRR) to be held on 3-5 July 2018 in Mongolia.
The media workshop, organized by Asian Disaster Preparedness Center (ADPC), in collaboration with the United Nation's Office for Disaster Risk Reduction (UNISDR), the National Emergency Management Agency (NEMA) of Mongolia and the Thai PBS is part of the initiative to build the capacity of journalists in reporting on disaster mitigation and preparedness (RedMap) to save lives.
Journalists from different platforms were introduced to the concept of a One Man Journalist (OMJ). Through group work, they learnt how to use simple devices, from mobile phones to tablets, to produce high-quality packages to be aired by their television channels or run on social media
The workshop venue−Civilian Training Center−proved to be the ultimate laboratory for participants to make fresh footage for their packages. They had the chance to film regular firefighting, search & rescue and earthquake preparedness drills being carried out at the training center by the Mongolian first respondents' cadre.
Each group produced a three-minute package; the outstanding video was screened at the IAP meeting. In addition, workshop participants tested their newly learnt skills by covering the IAP meeting with an enhanced understanding of the subject and the role that media can play in disaster risk reduction.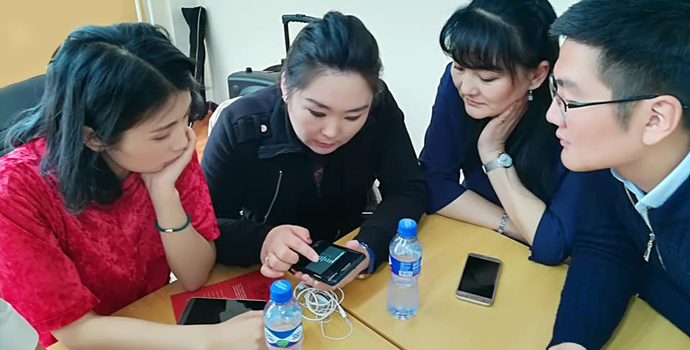 Journalists edit the video package on a mobile phone.
Ms. Loretta Hieber Girardet, UNISDR's Chief for the Asia -Pacific and a former journalist, attended the opening ceremony of the media training and later watched, alongside other delegates, a video clip screened at the IAP.
Ms. Loretta Hieber Girardet stated, "Reporting on the aftermath of a disaster is big news and often is the sole focus of the news media. This workshop prepares journalists to tell equally fascinating stories about how communities are building their resilience against disasters here in Mongolia."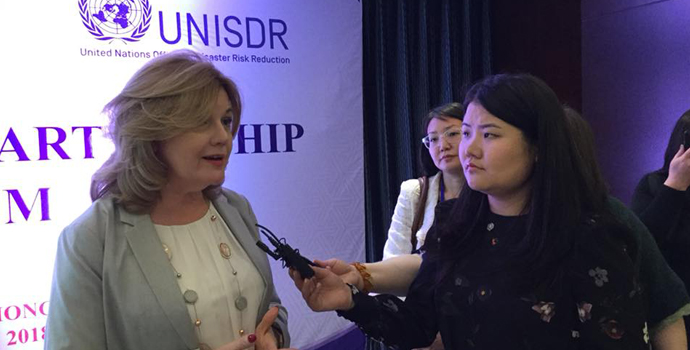 One of the participants of media workshop interviews Ms. Loretta Hieber Girardet, UNISDR's Chief for the Asia -Pacific, at the IAP meeting.
Video packages produced by journalists are available on Mongolia Journalist Disaster Network.
One of the objectives of the workshop was to prepare local journalists to cover the AMCDRR. "AMCDRR is a crucial mechanism to reduce the risk of disasters in the Asian region. This workshop provided local journalists an opportunity to learn new skills and techniques to reporting on AMCDRR and disasters in the region," said Brigadier General, Badral Tuvshin, Chief of NEMA, during his opening remarks.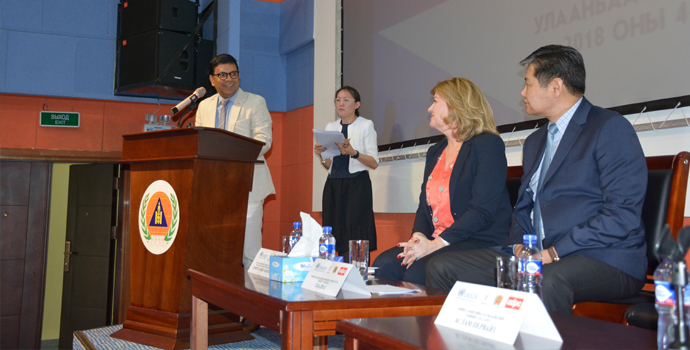 Mr. Aslam Perwaiz, Deputy Executive Director of ADPC delivers opening remarks at the media training and thanks Ms. Loretta Hieber Girardet, UNISDR's Chief for the Asia -Pacific, Brigadier General, Badral Tuvshin , Chief of NEMA supporting the event.

Mr. Aslam Perwaiz, Deputy Executive Director, ADPC highlighted the critical role of media and its potential to not only report on disasters but also raise awareness of mitigation and preparedness across all levels.