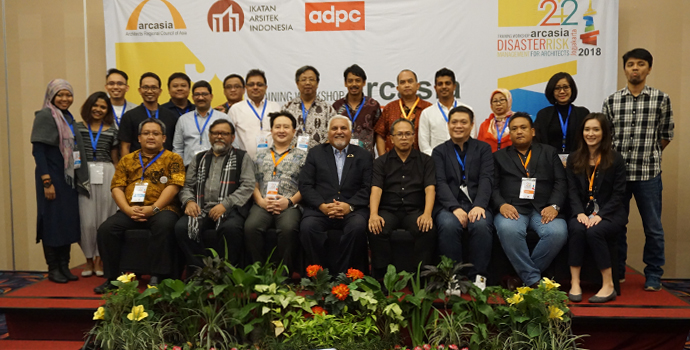 Participants gather for a group photo.
Architects from Indonesia and five Asian countries gathered to attend a training workshop on Disaster Risk Management for Architects from 4-7 April 2018 in Yogyakarta, Indonesia. The workshop was jointly organized by ADPC, Architects Regional Council of Asia (ARCASIA), and Indonesian Institute of Architects (IAI).
During the opening session, President of ARCASIA, Mr. Jahangir Khan said, "The 21 countries represented by ARCASIA are some of the most disaster-prone in the world. Architects are integral in mitigating and recovering from the consequences of disasters and ensuring the safety of people."
Architects provide the foundations and design for disaster resilient environments and living spaces. Key ideas explored through the workshop were the critical role of architects in disaster mitigation, preparedness, relief and reconstruction.
With the workshop set in a city that has experienced disasters ranging from earthquakes, floods, and volcanic eruptions, sharing best practices and lessons learned from Indonesia's repository of experiences was emphasized. "We are very interested in having more Indonesian architects involved in this training, as it is our privilege and obligation to protect and build resilience of our country," said Mr. Ahmad Djuhara, President of IAI.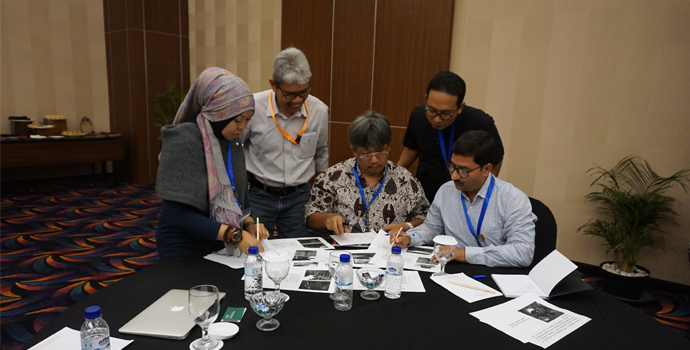 Participants grasp the different concepts to understanding disaster risk management.
Participants took part in an activity to tease apart the key terms and concepts to understanding disaster risk management. In this session led by Mr. Avelino Jr. Filio, Capacity Development Specialist, ADPC, the importance of architects to become familiar with the fundamentals of disaster risk management was highlighted.
Across the 4 days, participants took part in field trips across Yogyakarta to learn about resilient infrastructure and reconstruction to prepare for and build back better after a disaster. Site visits included the heritage reconstruction in Kotagede, imported culture-dome houses, and the post-disaster settlement of the 2010 Mount Merapi eruption.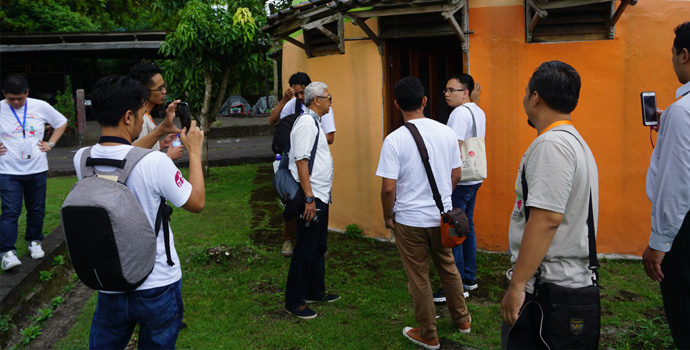 Architects learn about disaster resistant structures through site visit to the imported culture-dome houses in Ngelepen.
ADPC, ARCASIA, and IAI envision the long-term impacts of this workshop, as trained participants will act as representatives to share knowledge with architects in their countries. This pool of architects will be able to work with their respective National Disaster Management Authorities (NDMAs) and communities to ensure preparedness via building codes and regulations, preparing temporary shelters, and promoting resilient reconstruction after a disaster. To increase the number of architects involved and expand the reach of the training, a course to train architects to become instructors of the program is in preparation.
ARCASIA is a regional organization with the mission to develop architects' knowledge and skills in disaster risk reduction and promote technical advancement in the field of sustainable urban planning. Under the organization's new initiative, ARCASIA Emergency Architects (AEA), efforts are being made to train architects to respond to disasters and coordinate with their country's NDMAs for post-disaster management.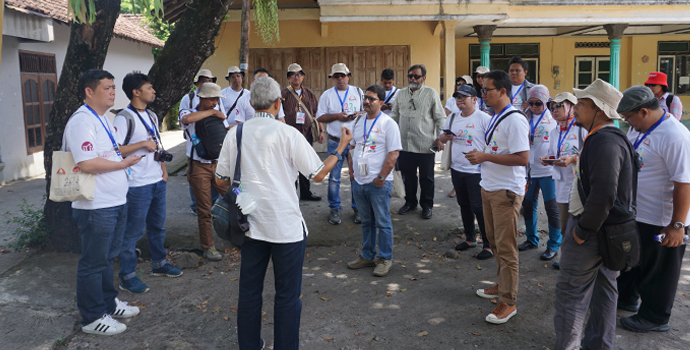 Site visit to Kasongan and Kotagede to learn about heritage reconstruction.