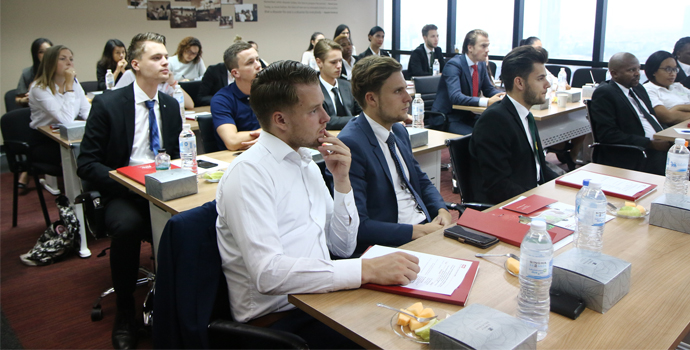 Students participate in discussion on mainstreaming disaster management into different sector.
Asian Disaster Preparedness Center (ADPC) welcomed 17 exchange students from Stenden Thailand – a sister campus of Stenden University in South Africa – on Thursday and briefed them on linkages between disaster management and the Hospitality sector.
Taking a short course on International Relations and the ASEAN region at Stenden University Thailand, some of the students are majoring in Disaster Management Program and some in Hospitality at its sister campus in South Africa. Mainstreaming disaster risk reduction and preparedness is vital in hospitality, travel and tourism sectors as they are interlinked. The annual Economic Impact Report of 2017, released by the World Travel and Tourism Council, explored that the sector was responsible for the creation of 7 million new jobs worldwide. In this context, the discussion revolved around the importance of Disaster Risk Resilience in the Hospitality Sector.
The Module Coordinator of Stenden University, Ms. Chiedza M. Skyum, discussed her thoughts about wanting her students to better understand the importance of disaster preparation: "as a hospitality manager, this is something very important to be on top of," she stated. In light of Ms. Skyum's discussion, ADPC's Deputy Executive Director, Mr. Aslam Perwaiz, offered explanation as to how ADPC has continually worked alongside universities to bring together the educational environment with the disaster preparation measures of the organization. He stated "what we believe is that the expertise that ADPC has gained over the past 30 years can be enhanced through the experience of students particular in the technologically advanced learning environment that is available to students today".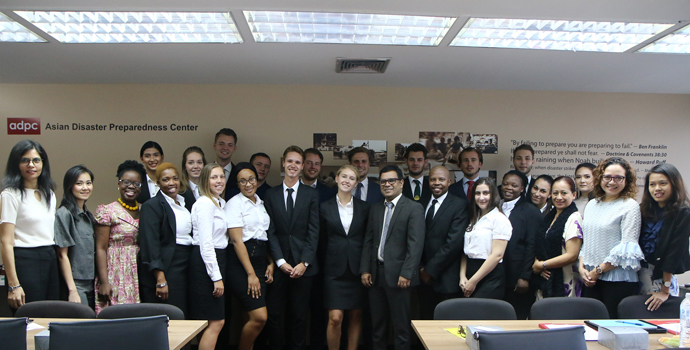 Mr Aslam Perwaiz, Deputy Executive Director, Ms. Chiedza M. Skyum, Module Coordinator of Stenden University (third from left), exchange students and ADPC staff pose for a group photo.
Students were encouraged to discuss their personal thoughts of the development they would like to see in their educational system, by focusing on the ways disaster risk resilience should be incorporated into their Hospitality curriculum. One student expressed a genuine enthusiasm for this matter, stating "most of us study International Relations but we want to know governments, disasters and real world problems… it is very orienting".
Stenden university is currently focused on extending their Disaster Management course across all sister branches. This provides a great potential for future engagements between ADPC and Stenden University.
Students were also briefed on World Water Day and this year's theme of "Nature of Water" and encouraged to write their thoughts on the importance of water and its preservation. ADPC will continue to work alongside the educational sector to encourage a higher integration of Disaster Risk Resilience across university curriculum.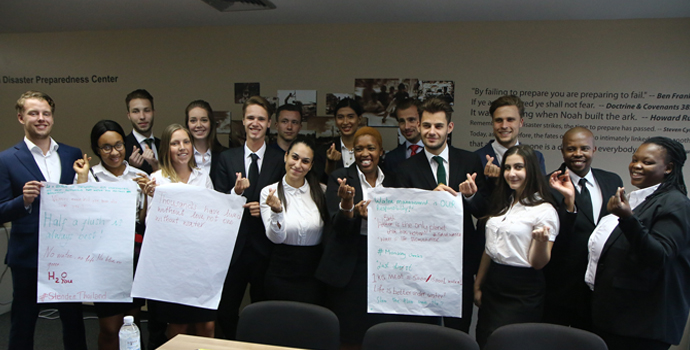 Students showcase their discussion of World Water Day.