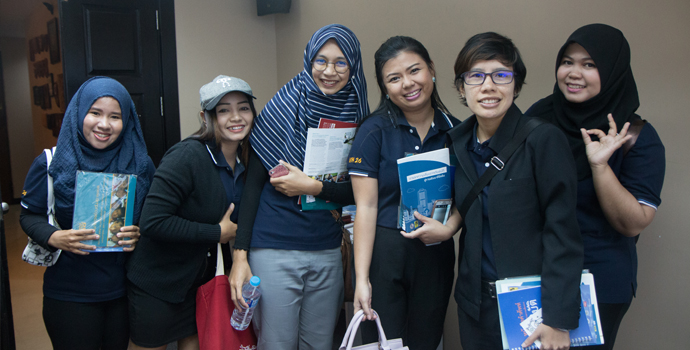 Students enjoy a tour to the ADPC's office.
Asian Disaster Preparedness Center (ADPC) hosted seventeen students from the Department of Public Administration, Faculty of Management Science, Prince of Songkla University, Thailand at its headquarters in Bangkok on Monday. Led by Dr. Somporn Khunwishit, Associate Dean for Research, students showed a great interest in using disaster management knowledge in their master's degree in Public Administration.
Highlighting the importance of combining theoretical and operational knowledge, Dr. Somporn Khunwishit said, as future public servants, his students must have in-depth information about disaster risk management. "One day, one of my students will be working as a professional governor and the other as a policymaker." He added: "They need to know they have a role to reduce disaster risks in the country; I want to expose them to practical knowledge about it at this stage so that they play their part as responsible bureaucrats in the future to save vulnerable communities."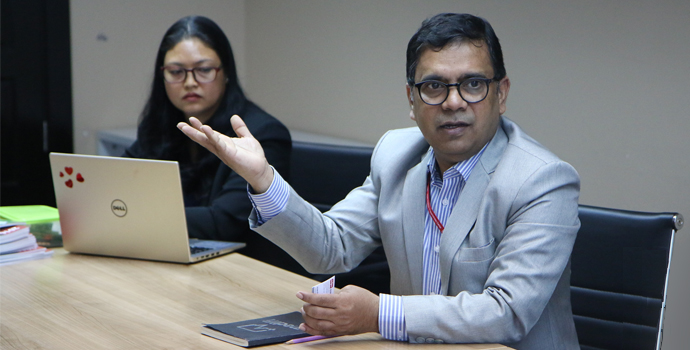 Aslam Perwaiz, Deputy Executive Director, ADPC, welcomes the university students.

In his welcome remarks, ADPC's Deputy Executive Director, Aslam Perwaiz, encouraged students to enhance their knowledge in disaster mitigation and preparedness as part of their routine life and to be ready to help their communities. "We have been promoting disaster preparedness and mitigation for over 30 years," he said and added: "ADPC has learned that without involving youth in promoting inclusive disaster preparedness, agenda 2030 is hard to achieve."
Continuing its resolve to collaborate with academic institutes, ADPC briefed students on how they can further enhance their knowledge in this area. Through presentation and quizzes, students learned about the importance of gender-disaggregated data and gender marking from ADPC's Gender Specialist, Ms. Napapan Der Kinderen.
Ms. Yvonette Serrano Duque, M.D., Senior Public Health Specialist at ADPC highlighted the importance of nutrition and breastfeeding for health in emergencies. "If malnutrition exists in a community, it will worsen during disasters. We need to start working on such neglected issues long before a disaster happens and also devise strategies to highlight neglected issues such as nutrition in emergencies when other response areas are considered more important."
Prince of Songkla University, Thailand is the first university in southern Thailand, established in 1967. ADPC will continue working with it to raise awareness of disaster risk reduction among students.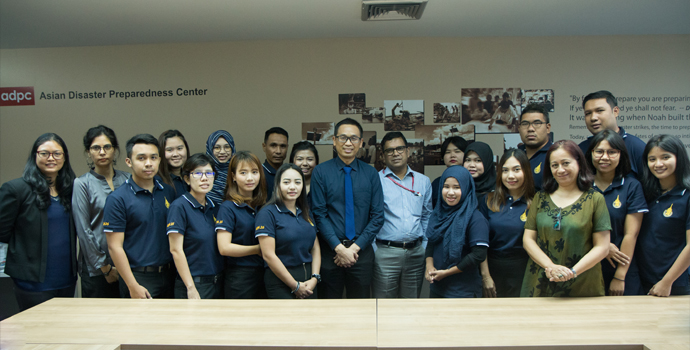 Dr. Somporn Khunwishit, Associate Dean for Research and Aslam Perwaiz, Deputy Executive Director, ADPC (in the middle) pose for a group photo with students and ADPC staff.